A reader of mine, Kobra, has provided the following workaround if you use Windows operating system. Edit c:windowssystem32driversetchosts in Notepad and add 127.0.0.1 www20.search.rogers.com . Thanks!  For a full set of alternate instructions that does not require modifying your core Windows System files visit my tutorial on disabling the Rogers Search Page.
Rogers Has Violated Net Neutrality?  Unbelievable.  This morning I awoke bright and early ready to start surfing and finding new things to write about.  The first thing I did was attempt to load my site in Firefox however I made a typo.  Normally when you type a non-existant address in your browser you receive a page that says something along the lines of "Server Not Found" or something similar.  Unfortunately I cannot show you what that page looks like anymore because ROGERS has hijacked my browser as of this morning and I am unable to find a way to completely disable this.
By hijack my browser I mean that from this point on if I type a non-existent address in my browser I am automatically redirected to a Rogers search engine with recommended links.  So after typing serial-box.nt (typo) I end up with this page:
The address bar changes to a Rogers search portal with suggested links.  The web page is also plastered with advertisements that Rogers is earning money off of.  This all started as of this morning.  Yesterday I could type an address that did not exit and see the normal NOT FOUND page.  Today I am forced to read Rogers advertisements.
Can this be disabled you ask?  Well Rogers thought of that.  There is a link at the bottom right corner of the page that reads, Learn More About This Page which explains the following:
Great.  No software has been installed on my computer.  Feeling like I can rid myself of this annoyance I click the button that says "Click here if you would no longer like to receive the Rogers Supported Search Resulst service."  The real shitty thing about this is that they are using Cookie to remember your choice.  As per the warning on the confirmation page after you disable it, if you delete cookies or use a program that does that for you, you will have to repeat this process of disabling this feature every time your cookies are
removed.
I then go and test this out in another browser window after it successfully tells me I have turned off this feature.  Lo and behold I am still being redirected to a Rogers page.  I cannot escape it!
I type http://asdhfajdshfla.abc into my browser which definitely does not exist.  Keep in mind here folks, I am using the Firefox Internet Browser NOT MICROSOFT IE.  After I have successfully disabled this feature this is the garbage page I get after typing in that address an Internet Explorer Error page.  Please explain to me how I am receiving an error from Internet Explorer when I never use that browser.  According to Rogers, after disabling this recommended search application which has installed "no software on my computer" I am still being redirected to a Rogers website.
I want my Firefox errors back.  Every time a Rogers customer enters an invalid web address you are giving Rogers money.  You are being redirected to a Rogers web page with paid search results.  If I make a mistake in the address bar I do NOT want to see Rogers advertisers.  This is a clever scheme and this must be stopped.
If anyone has any information on how I can permanently block this search page from appearing in my browser I would be forever in your debt.  I do not know enough about networking and firewalls to accurately prevent this page from ever appearing on my site.  I want my old error pages back.  I want nothing to do with IE and their lame error pages.
I've noticed that certain web addresses still bypass the Rogers filter and bring the old Firefox not found page.  Not sure what the difference is between this non-existent domain and some other non-existent domain?
Stop Rogers from hijacking your internet connection!  I have filed my compaint with them on their contact page however I will likely receive an automated response.  The only acceptable response they could give me is instructions on how to completely disable this feature.  I await their answer and will post it here when I get it.
Discuss this at the digitalforum.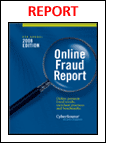 Title: Online Fraud Report – 2008 Edition Today
This year's study found that online merchants estimate they lose 1.4% of their revenues to fraud or over $3.6 Billion in annual sales. Read about this and over 25 other fraud management benchmarks, trends and practices.
Managing online fraud continues to be a significant and growing cost for merchants of all sizes. Total losses from online payment fraud in the U.S. and Canada have steadily increased as eCommerce continues to grow. What will the trend be this year?
Apply for a download a completely free copy of the Online Fraud Report.